Warning: This Wiki Contains Spoiler! Please Read At Your Own Risk.
Welcome to the Horimiya Wiki!
This wiki is dedicated to the manga Horimiya, the story written by HERO and art drawn by Hagiwara Daisuke.
This wiki has 2,599 edits, 114 articles, and 229 images. Most pages need further improvement, so any contributions are appreciated; adding new articles, writing more content, adding pictures, editing grammar etc. If anyone has questions or concerns, feel free to message an admin, LilacFlower.
Synopsis
Hori seems like an average teenage girl, but she has a different side outside of school that she wants no one else to ever find out about. Brought up in a household where both her parents are absent from working, she needs to take care of the house and her little brother, unable to lead a normal social life. Likewise, there is her classmate Miyamura, who has a different side out of school that remains hidden from others. When the two meet unexpectedly, they discover each others' secrets and develop friendship.
Recent Chapter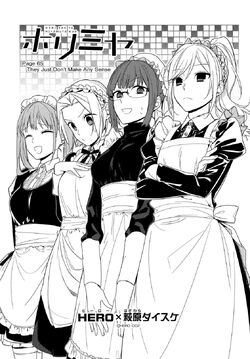 Chapter 65 is titled They Just Don't Make Any Sense.
The winter break is over, and the new terms starts while Yoshikawa is desperately copying down Ishikawa's homework. Hori asks Miyamura if he finished his, and he says yes pulling it out to show her, but accidently hits Hori with his elbow. He apologizes, asking if her ribs are okay, but Hori becomes shocked because he hit her chest, not her ribs.
Read More...
Featured Article
Ayasaki Remi (綾崎 レミ Ayasaki Remi) is a member of the Student Council, and she is known as Kakeru Sengoku's girlfriend. She attends Katagiri Senior High School, and is enrolled in class 3-5. She is more of a mascot in the student council, and is shown to do little to no work at all.
Read more...
Affiliates
Contact me to request for affiliation.
News
There is a popularity contest held online, which started on May 27. It will end on July 17. You can vote here, but it's in Japanese of course.
Who is your favorite female character?
OVA Promotional Video